Prepainted Steel Coil
Description
Prepainted steel coil is also called color coated steel coil. It is made by galvanized steel with paint coating. This product is widely used in construction field. It can be used as factory shed panels, cold room panels, roof tiles, etc. This color coated steel coil can also be applied in advertising, household appliance industry, electrical equipment industry, furniture industry and transportation.
Advantages
1. Color coated steel coil and effectively resist rust can corrosion.
2. Base steel panels are environmental friendly materials. They are processed without dust.
3. Our prepainted steel coils are light and good-looking. They can be processed directly.
4. Hot-dip galvanized steel panel has undergone the treatments of surface degrease, parkerizing and chromating. It is then coated with organic coatings. The coating quality is more uniform, more stable and more ideal than single spraying or brushing.
5. The adhesion force between galvanized steel and paint is very strong. The color will not fade for 15 to 20 years.
6. Prepainted steel coil has the superior performances in flexibility, plasticity, pressure resistance, abrasion resistance, heat dissipation and high temperature tolerance.
7.Our prepainted steel coils are manufactured with advanced composite technology. The color coated steel coil integrates good performances of various materials.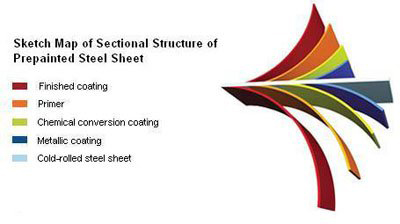 Specification of Prepainted Steel Coil
Thickness of Pre-painted Steel Coil: 0.3-0.6mm
Width Of Pre-painted Steel Coil: 600-1250mm,general width: 914mm,1000mm,1200mm,1220mm,1250mm
Paint: Top side 15-25um, Back side 5-9um, according to buyer's request
Zinc coating: 30-200G/㎡, according to buyer's request
Inner diameter: 508mm
Color of Pre-painted Steel Coil: All RAL color are available
Lacquer of Pre-painted Steel Coil: According to buyer's request
EPS Raw Material
EPS raw material (expanded polystyrene) is a kind of insulation material widely used in producing packaging and construction products. EPS beads are small and transparent plastic beads. The beads can be expanded to become resilient and form white-colored foam. EPS beads are then molded into EPS blocks or customized products.